In June, Telligen leadership and team members traveled throughout Illinois to meet with local partners from the Telligen QI Connect™ network and host an in-person reception. Telligen serves as the Quality Innovation Network-Quality Improvement Organization (QIN-QIO) for Colorado, Illinois, Iowa and Oklahoma. Telligen QI Connect™ is a network of partners working on healthcare quality improvement initiatives that are data driven and locally-tailored to improve healthcare quality and outcomes.
The Illinois visit was an opportunity for Telligen to meet with partners face-to-face after years of virtual meetings during the height of the COVID-19 pandemic. A special thanks to various partners who took time to sit down for meaningful conversations about our collective quality improvement work including the Illinois Hospital Association, American Hospital Association, Illinois Critical Access Hospital Network, Illinois Health Care Association, ATW Health Solutions, Petersen Health Care, CMSA Chicago, Edward-Elmhurst Health, Illinois Academy of Family Physicians, Leading Age, Legacy Healthcare, Raj Mahajan and MyndYou.
Telligen Senior Quality Improvement Facilitator Nell Griffin reflected on the visit by saying, "Working virtually and remotely has many benefits, however, nothing can replace the synergy and creativity of periodically coming together face-to-face to craft innovative new pathways and strategies. The feedback from stakeholders and partners has been exceptional and has cemented those professional relationships. Partners and stakeholders sharing their real-time experiences, challenges, successes and needs provide invaluable insight for quality improvement. New trailblazing opportunities have emerged and continue to emerge because of the successful conversations during these meetings. I look forward to the next time the Telligen team comes to Illinois."
The event featured a "data walk" including posters with relevant data showcasing Telligen's work in Illinois communities as it pertains to emergency preparedness, chronic kidney disease, the opioid crisis, health equity and health literacy, care coordination and Telligen's BEST in Class award. These visual representations illustrated Telligen's impact and offered partners a chance to see how their contributions to improving health outcomes in Illinois are making a difference every day. View and download the posters here.
By attending this event, partners gained insight and valuable resources, made connections with others in the quality improvement space and experienced the Telligen difference. Time spent in Illinois fostered both new and long-standing relationships and created momentum in our shared quality improvement work. John Hurley, Administrator at Alden Estates of Orland Park, was in attendance and reflected on his time working with Telligen by saying, "There's an old cliché: good, better, best; never let it rest. Make good better, and better best. Healthcare is certainly in that category – what we can improve upon and learn is endless. Organizations like Telligen help build capacity and allow us to continue learning."
"Collaboration plays a critical role in achieving system level changes," notes Tracey Durns, Senior Director of Quality Improvement for Telligen. "Telligen engages with providers, hospitals, nursing homes, physician's offices, patients and families and community partners in quality improvement efforts. We believe that collaboration leads to better problem solving, peer learning, shared purpose, and innovative ideas. This event provided an opportunity for Telligen to share data and create new opportunities for Illinois providers and partners to collaborate."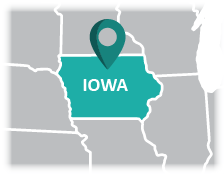 Our team is excited for our in-person reception in Iowa on October 25! Stay tuned for more details.
Share This Post: If you found this post valuable, share it with your colleagues and friends to spread awareness about healthcare quality improvement.
Connect With Us: Stay engaged and connected by following us on social media platforms. Join us on Twitter, Facebook, and LinkedIn to stay updated on our latest projects and collaborations.
Join Us: Telligen QI Connect™ is a network of partners working on healthcare quality improvement initiatives that are data-driven and locally-tailored to improve healthcare quality and outcomes by implementing and spreading evidence-based practices. Collaborate with over 6,000 partners, access on-demand trainings and resources and receive one-on-one techincal assistance all at no cost to you or your organization.