Meet the Hosts of the 
Shine a Light on Stigma Podcast
This collaborative series was developed by Superior Health Quality Alliance and Telligen in an effort to reduce stigma related to substance use disorder (SUD) by addressing and understanding that SUD is a chronic condition and not a moral failing. The first five episodes are available now with new episodes releasing monthly.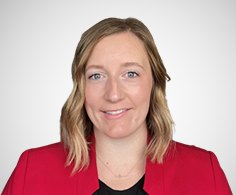 Brittany Rodriguez, BSN, RN
Senior Quality Improvement Facilitator, Telligen
Multi-state registered nurse experienced in leading quality improvement and patient safety initiatives across the care continuum with clinical expertise in critical care. Focused on data-driven, evidence-based interventions that impact the health of populations she serves.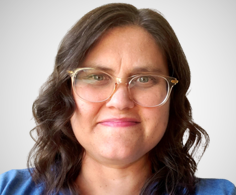 Mia Croyle
Behavioral Health Project Specialist and Quality Improvement Advisor, Superior Health
Experienced practitioner and trainer of Motivational interviewing; Member of Motivational Interviewing Network of Trainers (MINT) since 2011; over a decade of experience in Screening, Brief Intervention and Referral-to-Treatment (SBIRT) training and implementation; special areas of focus: integration of behavioral health into primary care, promoting positive health behavior change, trauma-informed and sensitive practices, and social drivers of health.
Tell us about your background and what led to your interest in mental health and substance use disorder.
Brittany: I began my career in the critical care world as a registered nurse. I have a passion for serving all people of all walks of life with the best care. I believe innately that everyone deserves to feel cared for and valued, especially when they are at their most vulnerable in our healthcare systems. This worldview has led me to train in Narcan as well as stigma reduction for the substance use disorder for healthcare workers.
Mia: I have a Master's in Clinical Mental Health Counseling, and I spent the early part of my career working in a rural community health center that served adults, families, adolescents and children with mental health or substance abuse issues. After that, I worked at the largest free-standing psychiatric hospital in Illinois. About 15 years ago, I transitioned to working with the University of Wisconsin School of Medicine and Public Health to implement programs to help clinicians in general healthcare settings better identify and address mental health and substance use disorders in their patients.
What is one thing you wish people understood about substance use disorder?
Brittany: I wish people understood that substance use disorder and addiction is a disease which is just as legitimate as having diabetes. Both require a well-rounded healthcare team and care plan.
Mia: It may sound simple, but I wish people knew that treatment works and recovery is possible. So often, people write those with active substance use disorders off as lost causes, but that is not the case at all. We need to focus on being present with people in their pain, and, when they are ready, connecting them with treatments that we know are effective.
What has been your favorite episode to work on and what conversations are you looking forward to?
Brittany: My favorite episode we did was actually our very first! We were able to share our personal stories that have drawn us to this work. I value authenticity and I enjoy when I listen to a podcast and feel like I walk away actually knowing a person.
Mia: Oh goodness – that is like asking me which of my children is my favorite!  I feel that the conversations in each episode have been so valuable. I'm looking forward to upcoming episodes where we focus on how to combat stigma in medical settings and episodes closer to the holidays where we look at the family perspective.
Listen to the Shine a Light on Stigma podcast series on your favorite streaming service today.