Resources to support Hospital Quality Improvement Contractor (HQIC) partners. For additional tools, visit our Resource Library.
Resources to support Hospital Quality Improvement Contractor (HQIC) partners. For additional tools, visit our Resource Library.
Topic-Specific Patient Safety Resources for Quality Improvement
Infection Prevention Tools and Templates
Cross Cutting Resources – Patient and Family Engagement, Health Equity & More
Culture of Health Equity
I Want To, I Just Don't Know How: A Practical Guide for Advancing Health Equity
The change pathway tool is a topic-specific, step-by-step guide to quality improvement. The change pathway is created using evidence-based practice resources and guidelines. Key quality improvement activities such as formulating an aim statement, conducting a root cause analysis and identifying interventions are included in each guide. Interventions are outlined as beginner, intermediate and expert so that you may explore opportunities for improvement that meet your needs. Download to get started!
Addressing Health Disparities Resource Guide
Health disparities are differences in health outcomes closely linked with social, economic and environmental disadvantage. These are often driven by the social conditions in which individuals live, learn, work and play. These disparities negatively impact the individual goal of achieving and maintaining good health, as well as the collective goal of providing quality care and achieving optimal population health. Learn about recommendations to increase understanding and awareness of disparities. Download to get started!
Patient and Family Engagement (PFE)
Patient and Family Engagement Implmentation Resource Guide
This resource provides you with evidence-based resources, implementation strategies and general guidance to assist your organization's efforts in establishing a successful PFE committee and meeting all five of the PFE measures.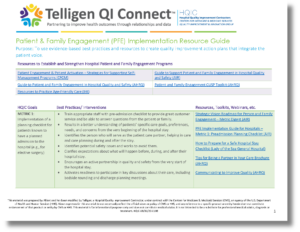 PFE 1 – Implementation of a planning checklist for patients known to have a planned admission to the hospital (e.g., for elective surgery), and PFE 2 – Implementation of a discharge planning checklist.
PFE3 – Conducting shift change huddles and bedside reporting with patients and families.
PFE4 – Designation of an accountable leader in the hospital who is responsible for patient and family engagement.
PFE5 – Hospitals having an active Patient & Family Engagement Committee/Advisory Council (PFAC) or other committees where patients are represented and report to the board.
PFE and Sepsis
Rural Health Information
Find rural-specific healthcare statistics, data, evidence-based interventions, case studies and toolkits that support rural and critical access hospitals in quality improvement efforts from the Centers for Medicare & Medicaid Services here.
Social Determinants of Health
Check out the Centers for Medicare & Medicaid Services Z-Codes Infographic.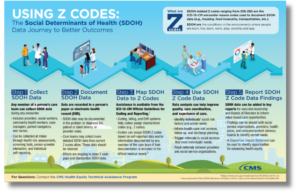 Quality Improvement Tools and Templates
IHI Quality Improvement Essentials
Check out IHI's QI Essentials Toolkit which includes the tools and templates you need to launch a successful quality improvement project and manage performance improvement. 
Plan-Do-Study-Act (PDSA) Tools
Root Cause Analysis Tools
Brainstorming, Affinity Grouping and Multi-Voting Tool
A PDF tool that helps with using the Affinity Group method for uncovering root cause analysis (RCA) that was released by the Centers for Medicare & Medicaid Services (CMS).
Facilitators Guide for the Root Cause Analysis Method
The purpose of a Root Cause Analysis (RCA) is to find out what happened, why it happened and determine what changes need to be made. The steps in the resource below outline the process for conducting an RCA.
A tool to walk you through a root cause analysis.
A root cause analysis tool (RCA) using the Five Whys method.
Use this interactive step-by-step guide for completing a root cause analysis (RCA).
Root Cause Analysis Tool Selection Guide
This tool helps with selecting which RCA tool to use between Affinity Group, Five Whys or Fishbone.
When to Use Root Cause Analysis
Root cause analysis (RCA) is a problem solving method. It is a process to investigate an incident, failure, actual or potential problem or concern that indicates a need for deeper understanding of the reasons why the event occurred. However, not every incident, failure or problem will need a RCA completed. This tool will help teams determine when and for what events a thorough RCA should be completed.
Telligen's Quality Improvement Workbook
In this workbook, you will find valuable resources to support your team's quality improvement efforts. We have created a timeline to follow and ways to track progress during your organization's quality improvement journey.