From 2021 to 2023, Colonial Manor saw an overall reduction of 83% in non-compliance points on their health inspection. This impressive improvement raised the nursing home's rating from one star to three stars – all in just two years. 
Diakonos Group purchased Colonial Manor Skilled Nursing Facility in Tulsa, Oklahoma during the height of the COVID-19 pandemic. When Terri Mullins, LNHA, stepped into the administrator role in 2021, Colonial Manor's overall Five-Star Rating was one star. Terri sensed a lack of engagement among the staff and residents but knew with the right steps, positive change could be made.
Knowing that change is hard, Terri assembled her leadership team and took on the home's biggest challenges first. They gathered the Colonial Manor staff and shared their expectations, empowered the team to make suggestions for improvement and encouraged everyone to hone their caregiving skills.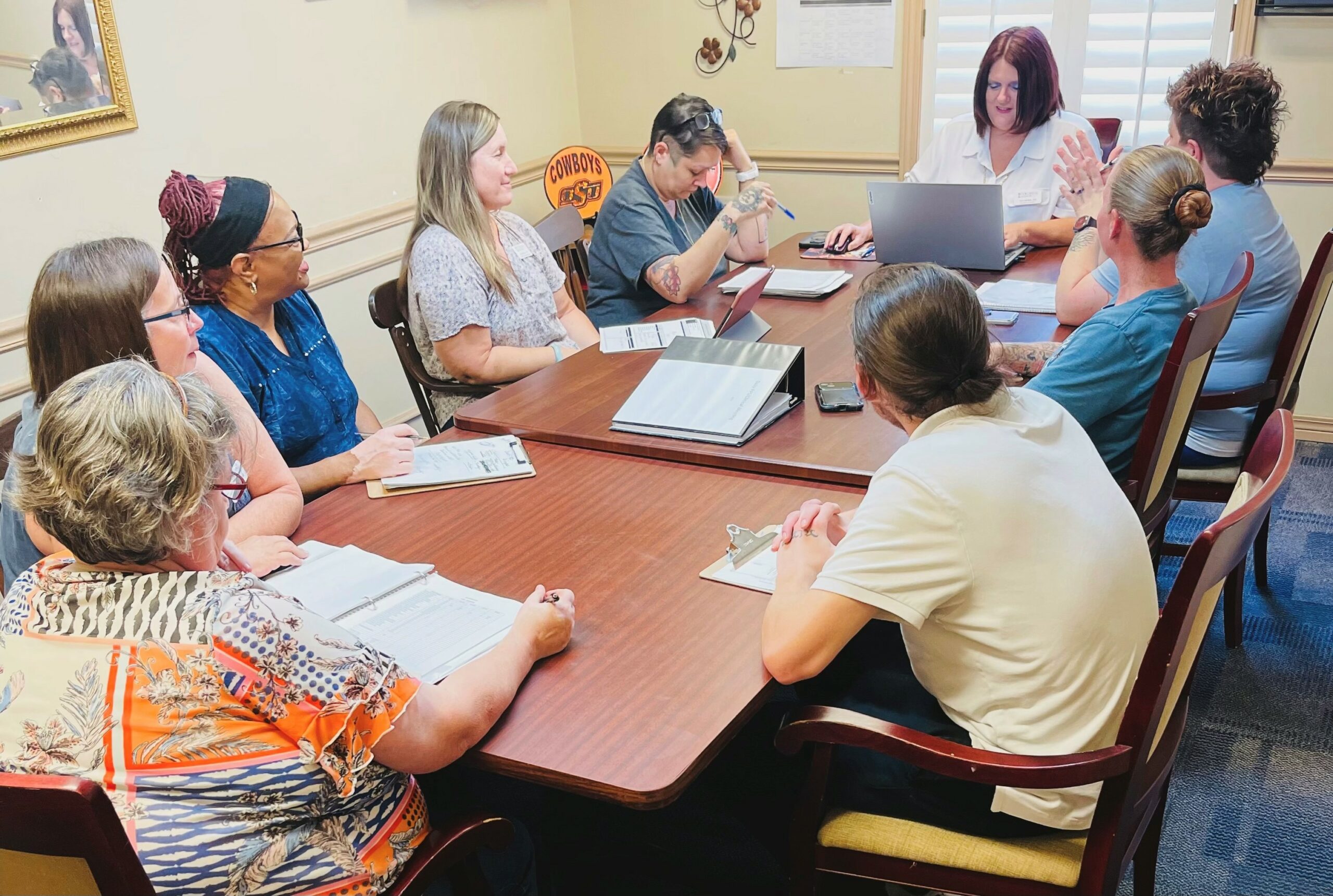 In the first 30 days, new expectations were set to perform rounds in a timely manner, chart properly, utilize best practices for passing medications and offer fresh water and warm meals to their residents. As a result, new processes and structures were established. Meetings were held with the residents' families so they could voice their concerns and form a relationship with the new management. Colonial Manor used quality improvement practices to develop a team, define roles, collect data, perform a root cause analysis and test interventions in order to make meaningful change.
One intervention that has been extremely successful is Colonial Manor's "angel rounds." This process involves department heads touring the building daily and meeting with eight or nine residents each. During the visits, residents are asked questions about the care they receive and if the leadership members can do anything to help during that visit (e.g., get fresh ice water, empty their trash can). This creates a culture where everyone is accountable for residents' day-to-day needs. During angel rounds, leadership completes a form containing thirteen observable items which allows for data collection and defines clear roles when troubleshooting recurring issues. "Putting processes in place and holding team members to a higher standard was accomplished with kindness. We put a focus on compassion and education," said Terri.
From the start of Terri's time at Colonial Manor, she set goals. From 2021 to 2023, the facility saw an overall reduction of 83% in non-compliance points on their health inspection. In turn, this raised the nursing home's rating from one star to three stars. Impressively, this was done in a span of just two years – a year ahead of Terri's goal. By integrating quality improvement processes, establishing buy-in from the staff and presenting process changes with the residents' perspective in mind, the team elevated their caregiving and improved the environment at Colonial Manor.
Through accountability and prescriptive change, Terri and her leadership team achieved a cultural shift. "I'm really happy to call my staff healthcare professionals. We have a true team of professional caregivers that want to be here for the right reasons – this is more than just a job. We're proud of the environment we've created at Colonial Manor for the residents' quality of life. The quality of their life is a measure of our work."
As part of the Telligen QI Connect™ network, Colonial Manor has access to no-cost resources, training and enhanced technical assistance. Morgan Satterlee, Quality Improvement Facilitator, supports Colonial Manor with quality improvement efforts including root cause analyses (RCA), plan-do-study-act (PDSA) cycles, employee satisfaction surveys and data collection tools. One PDSA cycle resulted in 90% survey completion among staff with data showing that communication was a lower-performing metric. As a result, Morgan coached them to organize a team charter and perform root cause analysis. "I demonstrated how the RCA process can be utilized and shared Telligen's live and on-demand RCA trainings. I provided Terri and her team with tools including the team charter template, fishbone diagram, PDSA worksheet and Quality Improvement Workbook to help them stay organized."
Colonial Manor has since implemented a communication system through their electronic health record system and Morgan supports them with data collection to test the PDSA cycle's effectiveness. "Working with Morgan made it all make sense – after I lost some sleep over the fishbone diagram! Having Morgan's help has shown us a better path to understanding quality improvement tools for falls, infections, communication and more," said Terri.
When asked what inspires Terri to work in long-term care, she recounted a job interview from many years ago. "I got into long-term care by accident. I went to an interview for what I thought was a doctor's office." Despite the mix up, Terri took that job and remained there for 12 years. She challenged the status quo and had a desire to find better solutions for long-term care residents. During her tenure, she has been involved in all areas of long-term care including dietary, social work and eventually administration. "You keep coming back for the people – you can really make a difference. Some people are meant to work with the youth of America, and some are meant to work with the elderly."
Share This Post: If you found this post valuable, share it with your colleagues and friends to spread awareness about healthcare quality improvement.
Connect With Us: Stay engaged and connected by following us on social media platforms. Join us on Twitter, Facebook, and LinkedIn to stay updated on our latest projects and collaborations.
Join Us: Telligen QI Connect™ is a network of partners working on healthcare quality improvement initiatives that are data-driven and locally-tailored to improve healthcare quality and outcomes by implementing and spreading evidence-based practices. Collaborate with over 6,000 partners, access on-demand trainings and resources and receive one-on-one techincal assistance all at no cost to you or your organization.