The Why Behind Our Work
Partner Feature — Oaknoll Retirement Residence
Innovation and Compassion During a Global Pandemic
About Oaknoll
Oaknoll Retirement Residence, an active lifecare community in Iowa City, IA, serves 500 residents and has nearly 300 staff members. They offer independent living, assisted living, a licensed health center and memory care unit. The team at Oaknoll is committed to the safety, wellbeing and inclusivity of all people, staff, residents, families, friends, vendors and volunteers. Telligen team members recently visited with Kim Bergen-Jackson, Administrator, and Sara Ruhlmann, Director of Nursing, to learn more about Oaknoll's management, innovation, partnerships and compassion that helped them during the onset of the COVID-19 pandemic.
Pandemic Management
Before the first cases of COVID-19 even reached Iowa, Oaknoll was ready. Management had plans in place and were able to successfully execute successful measures to prevent infections from reaching their community. For example, early in March 2020, their dining center protocol was adjusted to a delivery-only model to provide warm meals to residents. Staff and caregivers began using face shields and adapted procedures to align with infection prevention efforts. Staff members with multiple part-time jobs were asked to solely work at Oaknoll to avoid cross-contamination between facilities and were paid not to work when they were sick. Early on, Oaknoll purchased the Accushield system to monitor who was entering and exiting their community.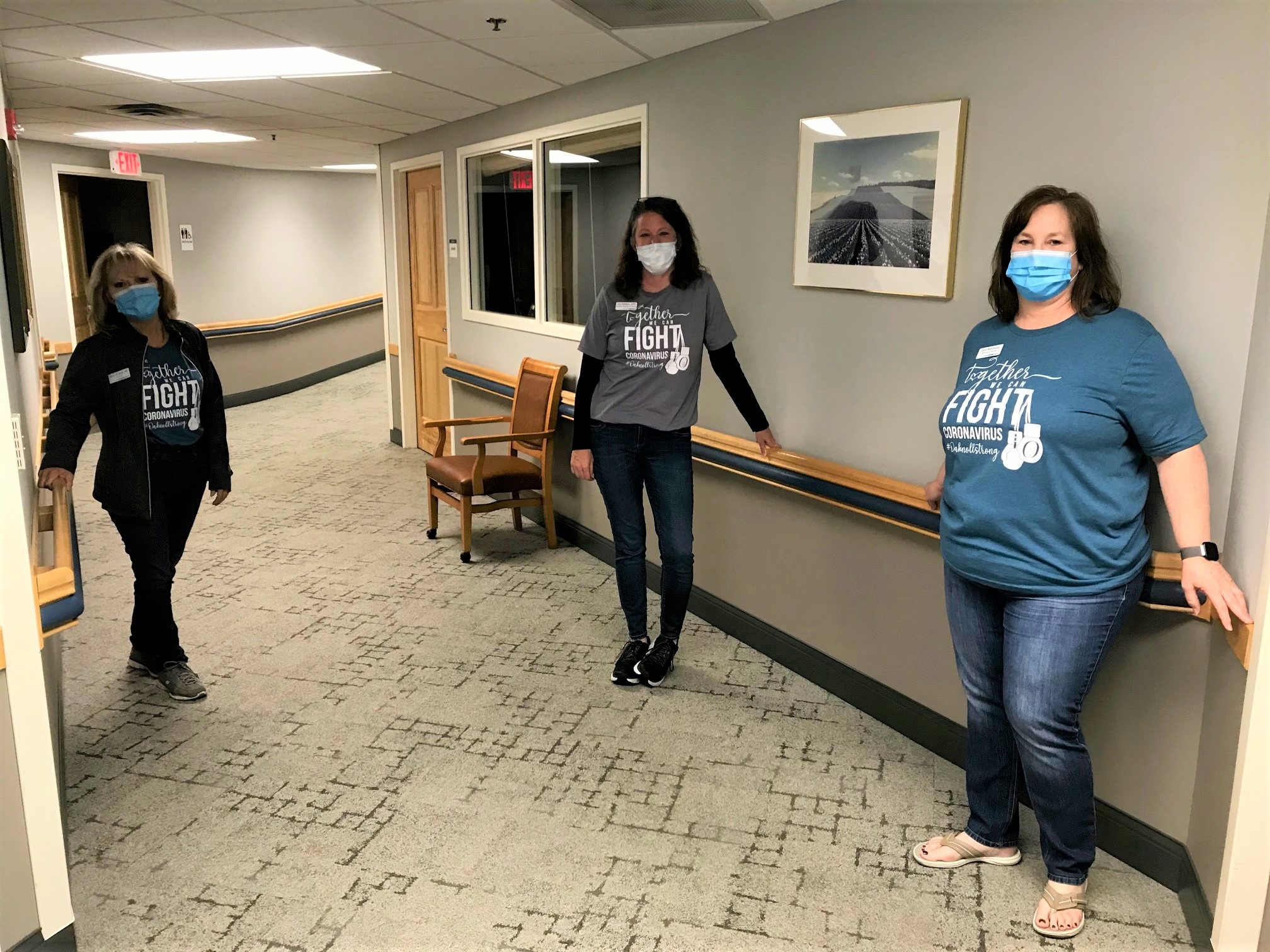 Communication was of the utmost importance at the start of the pandemic, and Oaknoll management was creative and efficient in getting their message out to staff, residents and families of residents. Leadership initially created weekly videos for staff and residents but expanded these to social media messages and also created weekly written communications for family members. This model became an example for other facilities on how to effectively communicate and keep everyone informed.
Bergen-Jackson credits Oaknoll's proactive management of the pandemic to her own nursing background and strong relationship with Ruhlmann. Every decision that was made, they made together. Their knowledge and experience in long-term care helped them make sound decisions and not act on impulse. "Being on the same level or playing field with each other creates endless opportunities," says Bergen-Jackson of her relationship with Ruhlmann. Speaking on the unanimous support they received regarding their COVID-19 mitigation efforts, they said, "The whole team – including our Executive Director Steve Roe, Medical Director Nicholas Butler, board members, staff, residents and families – everyone was on board and lined up together. We didn't have push back and that made it work."
Vaccination Innovation
As a Continuing Care Retirement Community (CCRC), Oaknoll has more staff members than your typical care community. This, combined with a desire to keep safety at the forefront, inspired them to get creative in vaccinating staff and residents early. Oaknoll coordinated large vaccination clinics with Walgreens through a national partnership and vaccinated nearly 700 people in one day. Following that, Oaknoll continued to hold their own vaccine clinics to support immediate family members of residents who qualified for the vaccine, pastoral service members who volunteered at the community and others, as able, while following public health guidelines.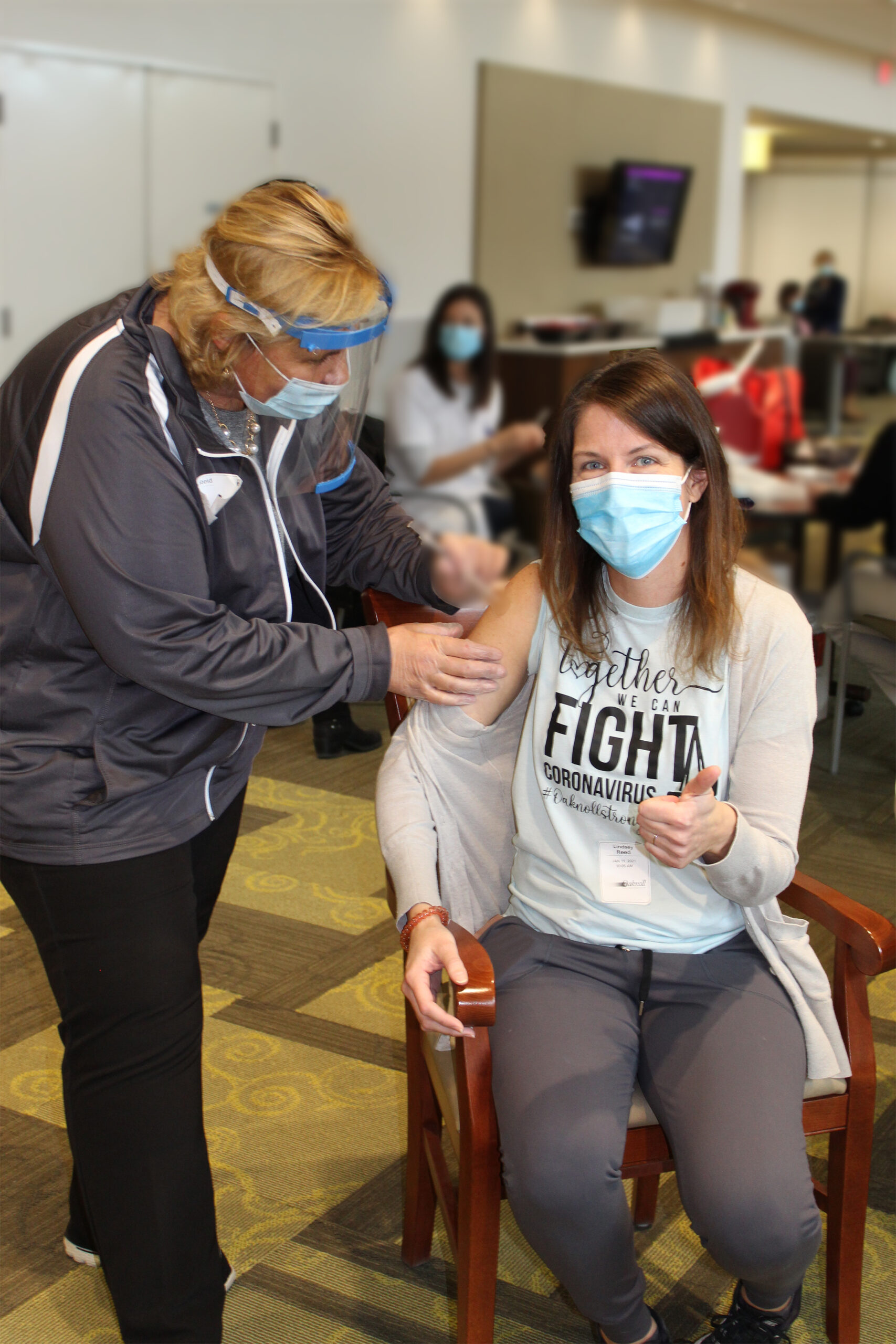 Leaders at Oaknoll knew that communication was key when it came to the vaccine. Before the vaccine was being administered, they enlisted the help of Dr. Pat Winokur, Executive Dean of the Carver College of Medicine and the physician leading the safety study of the Pfizer-BioNTech COVID-19 vaccine at the University of Iowa Hospitals and Clinics, in creating a video to educate staff on the vaccine. Dr. Winokur was joined by the Public Health Department and her mother, an Oaknoll resident, for an informative video on the new vaccine. Read more about Dr. Patricia Winokur here.
Oaknoll is proud of their 100% vaccination rate with residents and staff. Through open communication, positive messaging, thoughtful decisions and staying a step ahead throughout the pandemic, their community saw great success with vaccinating both staff and residents and are three-time recipients of Telligen's Blue Ribbon in COVID-19 Vigilance Award.
Partnering to Benefit the Greater Good
During the onset of the COVID-19 pandemic, Oaknoll and the seven other nursing homes in Johnson County participated in daily calls (including the weekends) to combat challenges they were facing. Together, these facilities saw great opportunity in collaboration and worked together to source personal protective equipment (PPE), create best practices and above all, support one another through this new and unchartered territory. These seven facilities formed a unique and crucial partnership that put competition aside and made resident safety the top priority. 
While the breadth of this partnership was new to Oaknoll and the other facilities in Johnson County, a working relationship already existed through monthly meetings of the Long-Term Care Quality Committee. This connection made it easy to join forces to take the best possible course of action for their residents while navigating daily changes. These meetings also included the local Public Health Department which aided in their emergency planning and preparedness. Through an extremely proactive approach, Oaknoll was able to act quickly and make changes to provide a safe environment throughout their community.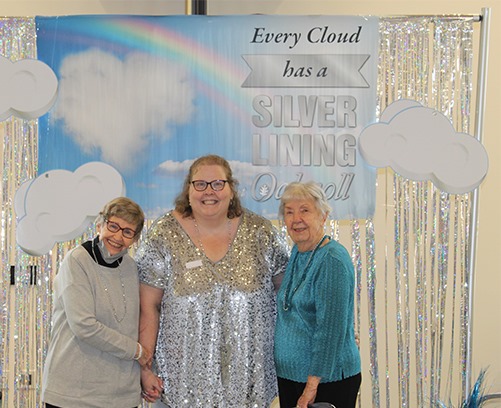 Compassion During a Trying Time
Oaknoll leadership was able to work with residents and families during the difficult times of pandemic lockdowns by making "compassion visits" possible. They took into consideration who needed a visit and made thoughtful choices to make it happen. With safety guiding their decisions, accommodations were made to allow families to connect in times of need through parking lot visits, chatter boxes and even a remodeled room. These visits helped remove feelings of isolation for residents and family members who were in need of seeing their loved ones. Bergen-Jackson says she feels fortunate to have had the resources to be able to accomplish this important feat during the height of the pandemic.
Furthermore, Oaknoll makes a promise to its residents through their LifeCare Community model. LifeCare is a financial guarantee that says regardless of your level of need, residents will continue to pay the same monthly fee as they paid in their independent living apartment. If a resident later requires the services of assisted living or even 24-hour nursing care, they will continue to pay the exact same fee. Bergen-Jackson noted that this goes beyond a financial guarantee, however. "It's a promise that we will take care of you until the end of your life – we will not give up on you."
Oaknoll Retirement Residence is a wonderful example of a caring, compassionate, and innovative community within the Telligen QI Connect™ network. We are proud to work with partners that are integral parts of their communities working tirelessly to implement best practices and improve quality of care.
The Blue Ribbon in COVID-19 Vigilance Award was created to recognize the challenges faced by nursing homes during the COVID-19 pandemic and to recognize those who achieve the following – staff vaccination rates of at least 95%, resident vaccination rates of at least 95%, resident booster rates of at least 90%, and a commitment to have policies, processes and ongoing staff education to prevent the spread of COVID-19. We are proud to recognize facilities with this award who not only provide amazing care, but go above and beyond to ensure safety for their staff, residents and families.