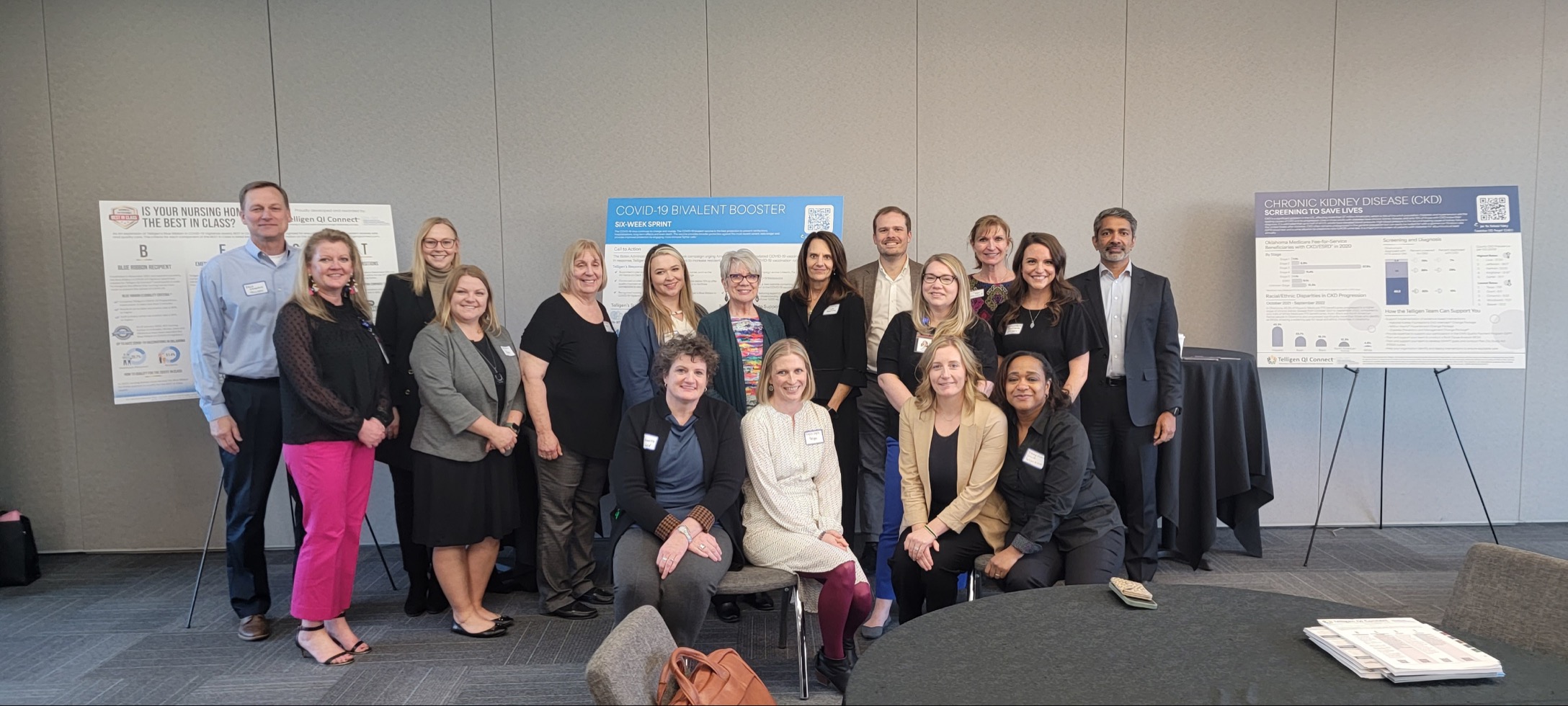 In February, members of the Telligen team gathered in Oklahoma City, OK, inviting local partners from the Telligen QI Connect™ network. Telligen serves as the Quality Innovation Network-Quality Improvement Organization (QIN-QIO) for Oklahoma, along with Colorado, Illinois and Iowa. Telligen QI Connect™ is a network of partners working on healthcare quality improvement initiatives that are data driven and locally-tailored to improve healthcare quality and outcomes.
This event was an opportunity for Telligen to network with partners face-to-face after years of virtual meetings during the height of the COVID-19 pandemic. Attendees included members from the Oklahoma State Department of Health, Oklahoma Hospital Association, Oklahoma Ombudsman Program, Oklahoma Mental Health and Aging Coalition, Oklahoma Family Health, Oklahoma Department of Human Services, Oklahoma Health Care Authority, Oklahoma Department of Mental Health and Substance Abuse Services, Multiple Area Agencies on Aging (AAA), Unite Us, and a representative from Telligen's Beneficiary and Family Advisory Council. This event enabled Telligen QI Connect™ partners to meet and strengthen relationships with peers from their community working towards similar goals to make healthcare safer, more accessible and more cost effective.
Several informative posters were on display at the event showcasing key data relevant to Telligen's work in Oklahoma communities. Care coordination and readmission rates, chronic kidney disease (CKD) management, response to the opioid crisis, social determinants of health and success rates of the six-week COVID-19 bivalent booster sprint were highlighted. These visual representations illustrated the impact of Telligen's work and offered attendees a chance to see how their contributions to improving health outcomes in Oklahoma are making a difference. View the posters here.
Senior Quality Improvement Facilitator Belinda Rogers of Oklahoma found the event particularly special. "At the end of the day, life is about relationships – the relationship we have with ourselves and others. Social interaction is essential to every aspect of our health. While virtual meetings have made workloads easier and perhaps more productive, it cannot replace face-to-face interaction. We have a need to meet and interact with like-minded people."
By attending this in-person event, partners experienced the Telligen difference. From finding subject matter experts for upcoming webinars to gaining valuable resources, the connections made were beneficial for all parties. Joanna Parker, Administrator at Oklahoma Family Health, in attendance said, "I'm so grateful to have been invited to the network reception. Your leadership is very kind and easy to talk to and there is so much opportunity to collaborate! I look forward to following up with them and I'm so excited to get some plans in motion."
This event fostered productive conversations and created action items to keep momentum moving forward in our quality improvement work. Rogers added, "Our partners are our highest priority, and conveying our genuine appreciation to them in person fosters trust and strengthens our collaborative efforts."
Our team is excited to travel to Illinois and visit with partners this summer!
You're invited to our next in-person gathering on Thursday, June 15 at the Hyatt Regency Lisle near Naperville, IL. Learn more and register by June 1.